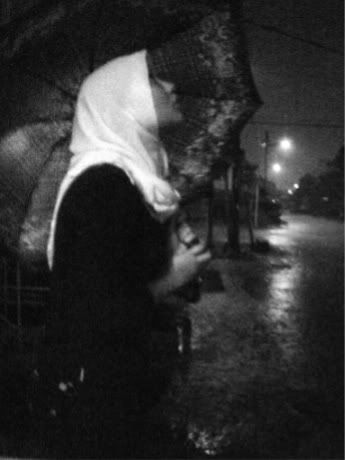 My Template works best
on Mozilla Firefox and
Google Chrome, sorry :)
Back to Home
«
»
tagged by Fazra :D
sedar2lah diri kamu semua tu, bler nmpk nama kamu sudah ditag ok.
and to fazra, hey, told cha i'll do it :)
dengan mata yang sembap dan active energy diri ku yg agak rendah skrg, ku kuatkn semangat untuk meng update blog, sebab buat 2 post semalam smpi 4 pagi x PUAS :O
haih, dh la post2 lepas membebel terlalu nya la banyak. haih -_-"
oh tpi, ade sorg perempuan ni, heh. xde siapa pun leh kalah kn record dier. mmg ckp banyak. x kisah klu dier kenal atau x, dier bercerita je kenangan lepas dier, atau ape dier pengalaman hidup dia kpd sesiapa2. org x tanya pun, dier akn cerita smpi abeh. ape yg abeh pun aku x tau.
seriously, even i yg mulut murai ini, terdiam kelu lidah 0_0
bak pepatah natasha " she has beaten you fasya. "
-_-"
title mulut murai tidak lah ku mengejar smpi ke hujung dunia. asalkan aku budak baik sudah. haha :P baik la sgt
astaghfirullah!! TGK! membebel x tentu psl. where does fasya learn all this? WHO KNOWS -_-"

Upload a picture of you in a position that you hated the most.


buruk giler kot muka.
mcm MENERAN -_-"

ps; actually, ada banyak giler, and ada yg sudah di delete, agak susah memilih -_-"




FOUR NAMES THAT FRIENDS CALL YOU

:
1. Fasya
2. Farah
3. babe/baby
4. flourine :)

ps; the last one is my fav :D




FOUR MOST IMPORTANT DATES IN YOUR LIFE

:
1.

30052008


2. 22011991
3. 01062008
4. every 30th. baskins 8D haha, fikir mkn je -_-"




FOUR THINGS YOU'VE DONE IN THE LAST 30 MINUTES

:
1. upload 2 video

*finally! youtube sungguh senget*


2. berjalan untuk mengambil handphone yg terlantar di lantai.
3. mencari gmbr yg sesuai utk pic yg di atas -_-"
4. um um.. oh chatting with zaki -_-"




FOUR WAYS TO BE HAPPY

:
1. music music music/singsingsing/dancedancedance :D
2. food food food
3. sleep sleep sleep
4. oh and freaking around with friends :), laughter is the best medicine anyway.




FOUR PEOPLE YOU MISS FROM YOUR PAST

:
1. honestly, i miss my late grandma.
raya hasn't been the same without her. everybody is moving on, problems are everywhere. hometown, just doesn't feel as cosy as it should be these past few years.

2. siapa ek.. em..
oh, there's this one teacher. i forgot her name -_-"
but.. she was really awesome. she never really.. hem.. she gave me hope.
she was the one who pushes me to enter public speaking, story telling and all that stuff. it's weird, cause my parents especially my mama *sorry mama! but its the truth* kept criticizing me, always trying to push me in speaking in english at home. i'm rebellious and i don't like to be criticized when i was lil, i hate it so much. i still do actually.
but anyway, this teacher, never criticize how i talk, and she has never heard me speak english before, but all of a sudden, she just ask me if i want to join.
hey, if someone is being sweet with you, surely you would reply sweetly to them.

so i did, and it really change my life :)
so i really miss her, and i wish i cud see her again. i still remember her face, just dun remember her name. huh...

3. em.. i miss... i miss... hem.. my brothers?
haha its just, we've grown up ya see.
when we were little, we meaning me,along and angah ALWAYS, i mean ALWAYS, take bath together when were in hotels and stuff. which is kinda funny when u look at those pics again. YES there's pics of us taking bath together. TONS :)
i'm not saying i want to take bath with them again. EWWWW
errgh dude -_-" what i mean is, i wish they would stop trying to be better than one another. yeah, i miss them old selves.. hem..

4. this is consider as past, but yeah. i miss the one who i could call MY LOVE.
MY ONE and ONLY, and emphasizing ONLY, LOVE.




FOUR GIFTS YOU WOULD LIKE TO RECEIVE

:
1. my own dslr camera 8D
2. new sandals
3. hugs and kisses PLSS, seriously i love hugs and kisses soo much! but only from the person i know! -_-"
4. a kitty :) yup, YOU HEARD ME :)




FOUR OF YOUR FAVOURITE HOBBIES

:
1. talking/writing, something involving self-experience, cause when we express something that we want to express,the ideas just seem TOO MUCH :)
2. singing/dancing/playing music instruments, heh OBVIOUSLY
3. playing games, seriously :)
4. sleeping haha XD




FOUR PLACES OR COUNTRY YOU WANT TO GO FOR VACATION

:
1. JAPAN

*a must babe!*


2. Paris
3. Korea
4. where there only you and me, thats what i call vacation :D haha




FOUR FAVOURITE DRINKS

:
1. chocolate whipped cream from secret recipe
2. ice lemon tea
3. mango/apple/honeydew
4. sarsi




FOUR THINGS ALWAYS FOUND IN YOUR BAG/HANDBAG

:
1. phone and headphone.
2. sudoku's book. LOL yes I AM NERD
3. purse
4. mints, compact powder,lipgloss and etc etc.




FOUR FAVOURITE COLORS

:
this is hard, because i love all the colour there is -_-"
1. WHITE
2. Blue
3. Pink
4. black




TOP FOUR HANGOUTS

:
um jap, tgh blur. apa yg soalan ni nak? -_-"
1. -i love to hangout with my besties at sunway i guess
2. -um.. the curve? :D
3. -redbox XD haha
4. -hemm.. rumah maklong. haha XD




TOP FOUR U LOVE SO MUCH

:
this is hard cause to me, my friends are like my family, so there's no such thing as friends first or family first. cause friends are family as well -_-"

but i'm gonna pick my top four ppl just to be relevant with this question.
sebenarnya nk campak soalan ni keluar tingkap mcm nuha slalu buat haha XD tpi xpe, saya baik mlm ni :P

1. ALLAH, ofcourse. ok ok, x relevant la.
sebenarnya SI DIA. A**** **** :)
2. Farhah :)
3. Daddy
4. Kakya,jojot,mama

*aka maklong*

lol, kaktati,abg dwan,abg cepoi and toro para famiglia.

haish, susah susah -_-"




TOP FOUR "THINGS" SPECIAL TO YOU

:
1. that PIC
2. um um.. hem.. persona haha :) i have my reasons :)
3. yaya, the teddy :)
4. and that red bracelet. YES, THAT RED BRACELET.




TOP FOUR WHO YOU WILL TAGGED

:
1. My honey NUHA!
2. My bearry BEAR BEAR :D
3. My notreallythatcute NIK haha
4. and MY awesome AZRAI :)

haha.

buat jgn x buat. jgn bagi alasan sibuk. ku pun sibuk, tpi buat jugak :P

xoxo
love you
miss you
do you know that?


andy

Labels: tags
Wednesday, August 19, 2009 9:15 PM
Posted by — Fasya Ibrahim.