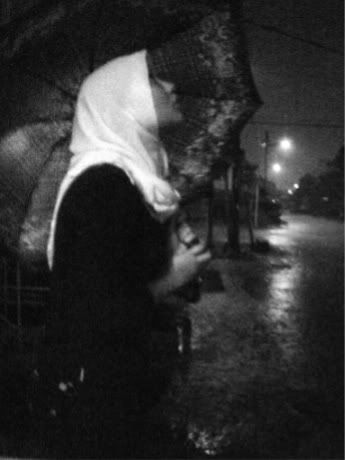 My Template works best
on Mozilla Firefox and
Google Chrome, sorry :)
Back to Home
«
»
Making HIS-story
p/s: this blog was suppose to be post last 3 weeks ago but i didn't ave time to finish
it. so it has
been a draft since then. but it's time to clean out the garage. lol


or shud i
say her story. Pada 9 August 2008, nur munirah bt muhammad hisyam telah 'selamat' diijabkabulkan dan persandingan diadakan sungguh sergam in
dah nian (at least to me XD) haha
the first ever cousin in my family tree an
d the first grandchildren in Omar's family to be married.
congrats my lovely cuzin. for 5 years u took care of me n my family, and if it wasn't because of you kakya, i would never get close to anybody but me in Omar's family :)
we've fought so many times. well guess wut? i cried kakya, on da day u were engaged. haha
and i'm sure i'm not the only one. your siblings love u oh so much. but marriege is a process of life. i'm thankful that u have found one. see? told cha dat ur gonna get married sumday
. haha so du
duk kt dapur pon terbuktilah leh jumpe lelaki gak kan? haha sekurang2nya kt dapur hotel sheraton
haha
ah so many memories kakya! :) it brings tears n laughs to me. and yes, i'll
never forget it. :D well, i'm sorry for my lame voice when i was singing dat day. i ave a sore throat. yet i ave fulfilled ur wish. i hope u enjoyed it. yes, i know... its u fav song... oh plss... dun cry.. its a your day.. yes.. smile.. :) now dats better. da bride can't be seen wiv a dreadful melted makeup aite? X)
well i dunno if u'll get to read this post. i'm sure ur busy wiv work and stuf
f. but... here goes my speech. huh..

kakya, terlalu banyak yg ingin farah nk perkatakan disini. terlalu, sehi
ngga tak tahu farah mcm mane nak memulakan dan cara untuk memulakan.
kakya mempengaruhi hidup farah dlm pelbagai aspek kehidupan, mengajar farah, mendidik dan menyumbang ke dalam jalan2 hidup farah. farah x tau mcm mane nk berterima kas
ih dgn kakya sebab kasih sayang dan kesabaran yang kakya lahirkan kepada farah sungguhlah tak ternilai.
kakya,
ampunilah segala dosa farah dari farah kecik hinggalah sekarang. segala pertutu
ran dan perbuatan yang menyakitkan kakya, ampun maaf beribu2.
kak lang doakan kakya berbahagia sentiasa dan sabar menghadapi dugaan. ye kakya, dugaan itu sesuatu yg tidak boleh lari. jgn merungut kerana Allah marah pd umatnya yang tidak be
rsyukur. namun Allah mengasihi umatnya yang sentiasa berusaha. jgn risau, setiap soalan pasti ada jawapan. setiap masalah pasti ada penyelesaian. :) jadi jgnlah mengeluh. kakya pon boleh hancurkn barang kat rumah ni mcm dulu2. haha X)
lama x tido dgn kakya. mandi sama2 haha XD baling bra dan panties. haha giler detail
. sorry kakya! men2 je time tu. haha kite gelak2 jugak kan time tu? best best. haha X) syg kakya amat amat!
aduh.. sungguh byk kenangan yang indah. oh ingat x kakya kena cop dgn daddy sbg " inspector tandas"? haha
mase tu jln2 kt italy dgn rutland. aaa! giler best time tu. :DDDDD
seriously kite mmg enjoy kt sane. haha kakya x abeh2 nk gi tandas. smpi
satu temp
at je nk gi toilet. haha
oh pastu kasut basah kene dgn air pantai. haha sabo tol. along ni. haha angah merajuk sebab kasut osiris kesygn dier rosak basah. haha kite cool je kan? oh n farah tgkp byk gmbr kakya secara mengejut. eh daddy simpan tau gmbr yg kakya tgh bukak mulut tgh mkn. haha giler
buruk n lawa gmbr tu. haha damn! so many memories. :')
kakya, alang doakan kakya sentiasa mu
rah rezeki dan cpt dpt anak. haha :DDD
jaga diri baik2 dan ... ah alang pun dah x tahu nk ckp ape. X)
ape2 pun, salam kasih syg yg x putus2 di hulurkan kpd kakya dari adikmu yang berad
a di jauhan ini. haha xpe jauh di mata dekat di hati kan? :')

oh and i wud to take dis moment to post my babies!! the two person that never stop smilling everytime they see me! :D akkaaaak! ah!! my nadi nadra. ;P
a proud mommy i am. XD yes they are looking at you. haha they are such a great model
great posing. haha
yes dats her smiling!! XD
they're laughing! they are so good wiv cameras. lol
ah such a great model. :D and yes ppl! they are twins!! haha not camera or photoshop edited. this is a real deal. we ave twins in the family! god this is the time when i wish when i ave babies , i wanna have twins! haha
nurul nadra bt muhammad (along)
nurul nadira bt muhammad (angah)
only few ppls dt can differentiate them. n i am proud to say i am one of them. :D
oh there are tons of pics on da wedding day. but nah.. mybe in the next post. i think. haha

scoop of

dat

day was, ppl keep yelling n asking me y didn't i ask zaki to da wedding. wut da fish??? lol well wuts done is done. plus zaki is too young to go to dat kind of wedding. haha XD
juz kidding my love! :P

well i didn't went to school b'coz of kakya's wedding. sorry i missed ur badge ceremony queeny n zaki. i know u were hoping for me to tke pics of u queeny. haha XD
queeny.. i'm sorry....i didn't mean dat way.. huh..
funny notes: a kamera man was checking me out! XD n he happens to be my cuzins friend. ahaks. haha jgn mare zaki. XD
Labels: famiglia
Friday, August 29, 2008 8:51 PM
Posted by — Fasya Ibrahim.