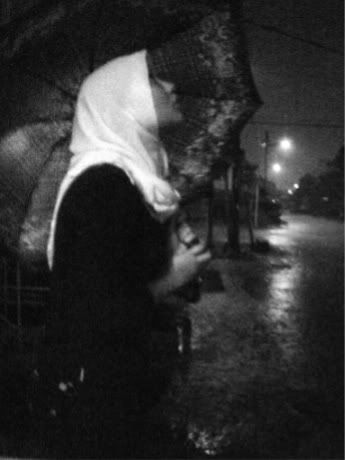 My Template works best
on Mozilla Firefox and
Google Chrome, sorry :)
Back to Home
«
»
kak JAJA's wedding


25/1/09
woke up at 8 because i slept at 3 in the morning
being poked to get ready to go to SUNGAI PETANI, our OL' hometown :)
daddy asked to just prepared few clothes just in case we plan to stay one night there
but it end up becoming a one day trip
why? sebab daddy x dpt ajak kaki2 yg cukup utk men golf
haha he is SO dissapointed and moody rite now
reason we went to sungai petani is because there was a wedding
hafizah&saiful
aka KAK JAJA
anak paklong maklong
um jap ape pertalian dier dgn family kite balik?
haha
boleh blur plak
um i'll get back to u on that
its kinda blurry and confusing even if i tell u
ye la, MAK AYAH KAWEN CUZIN. mana tak nyer. haha
saje je ambik opportunity nk tulis tu X)
anyway,
fact of LIFE
: islam tak MENGHARAMKAN perkahwinan antara sepupu
namun IA tidak MENGGALAKKAN
science fact
: an unhealthy baby will be BORN
namun itu kehendak Allah S.W.T. kan?
oh and lagi satu, keturunan x mengembang
hem.. well enjoy if this is something new to you :)
oh oh! sebelum ape2,
saya nk ucapkan
HAPPY BELATED BIRTHDAY MIYO
! :D
i'm really sorry but, these days i'v been SO BUSY that i don't have the time to update my blog
and esok pon xde kt rumah jugak
wee sungguh outgoing saya bulan ni :D
tpi duit sudah pokai huhu X(
jap jap! back to my wish hehe :D
semoga KAMU berbahagia, success slalu and dimurahkan rezeki
ku doakan kamu sejahtera dan dipemudahkan segala urusan biar semuanya berjalan dgn LANCAR :)
amiiiiiiiiiiiiiiiiin... *with hands action*
and hadiah, biler kite jumpe tau! miyo janji :)
masa kt wedding arini, jumpe cuzin2 ku yang KU SAYANG BANGAT :)
betul jot, best sgt. rasa mcm masa dulu2. kite sume berkumpul and sume org berborak as a family.
and yes, mmg farah SEDIH SGT :(
farah nk memori itu bukan lagi
MEMORI
, tetapi
REALITI
:(
kenapa semua kena berpecah :(
so anyway,
saya nk listkn je ape yg berlaku arini. dh penat sebab dh kul 5 pagi dh ni.
*
saya menyanyi duet dgn ABG DWAN pd wedding ari ni, mendapat pelbgi pujian and satu BAKUL bunga, haha mmg sengal cuzin2 saya yang jauh XD oh ps; lagu MY HEART :( sungguh menghayatkan :)
*
saya dikenali ramai, tpi saya sendiri x kenali siapa yang tegur saya ari ni XD
*
and ada makcik ni nk book saya sebagai menantu dia. saya x tau kenapa tpi kebelakangan ni, bukan shj mama dgn daddy, tpi RAMAI sgt org ckp psl kahwin dgn saya. um.. mmg lps abeh spm, jadi camni ek? 0_0 haha
*
tomboy fasya? dh xde dh.. atok mamak kata saya sudah ''gadeh gadeh" :) maksud nyer anak gadis :)
fact:
saya orang 3/4 minang dn selebihnye bangkahulu
:)
*
oh oh! dn seluruh CUZIN SAYA SUDAH TAU SAYA
bekerja
:)
and jot! pls tolong jgn kutuk. x baik tau :( but i don't care. saya SYG awak jugak :)
*
tarian POCO POCO best :D
*
i FEEL the BOND is getting stronger between me and my CUZINS and even the one dat is not CLOSE to my family :)
*
daddy POTONG KERETA TU! wohooo! woot woot! tolong la, baru naik keta gen2 nk poyo2 kt jlnraya, kami sempat lgi bg flying kiss kt abg BODOH tu haha. bwk la laju2, smpi 180 je, kami boleh smpi 220 :), secretly i pray for an accident awaits him. biarlah, karma :) PFW 9161 sungguh bodoh :D, ye saya sempat ambik nombor plat dia :)
and we're not being a reckless driver. its just those BOZOS keep tailing us and flashing their lights.
trust me, when u ave a car and u are officially called a driver, u'd understand :)
*
dlm bulan ni, dh 4 org laki yg menggunakan pickup line YANG SAMA
"cutenyer awak ni. awak ni ceria je saya tgk. x berkepunyaan ke"
3 boys used it in malay, and one of it was in english. well jason used it in a good way. haha
giler buyers XD. but its true. jason is very nice :)
but back to my main point, i just can't be bothered with this crap anymore -_-"
mulut pndi bermanis, tpi OMONG KOSONG. abg herry jugak yang baik :)
yg PALING xleh bla "
awk lawa la. klu x lawa, saya xkn mintak syaza ambik no. phone awak
"
tak ke terang2an tu? :)
LELAKI kebykan nyer zmn skrg sungguh memilih yg LAWA SAJE
sorry atok, saya bukan menjadi prejudis. cume ckp KEBYKN je :)
haha DEFINITELY reject dulu babe ;)
if looks really dat important to you, then sile2 kan lah keluar dari gelanggang permainan fasya
Walk a mile in my shoes
Do me right or I'm through
Can't you see that
If you wanna stay around (I'm telling you)
You've got to figure me out
Take your time or you lose
This is my game, my rules
And I can see, obviously,
Baby You don't know
What It's like to be me
:)
um rasa mcm pjg sgt je post ni
and sedangkan byk lagi nk cite :)
tu la, sibuk sgt XD
aduh dh kul 5.30 pg la..
x tido aku. haha
xpe la, kt dlm keta dh tido XD
itu la ape yg akn terjadi biler kite terlalu BORED di dlm kereta
oh well
till then
take care everybody
cause life is too short to be uncaring :D
don't take life seriously,
its not permanent :)
notes:oh, perjlnn pada ari ni, mengingatkan kenangan saya semasa saya duduk kt alor setar
slalu balik selayang memakan masa selama 4 hingga 5 jam :)
oh well...
"
fikiran manusia semakin kolot dimakan dengan perasaan
sendiri
"
Labels: 100 wonders of fasya's world, a scoop from the busy-ness, famiglia, flash backs, happy moments, overall
Monday, January 26, 2009 4:49 AM
Posted by — Fasya Ibrahim.